Wooden Windows
The Right Choice for The Perfect Home
Well-designed quality wooden windows can enhance a property and increase its value substantially, making it into an even more attractive and desirable home. They give light and life to the façade and functional style to the overall design. However, poor quality or inappropriate designs can seriously detract from a building's appeal and value.
Here at Firth (UK) Ltd we have over 75 years of designing and manufacturing top quality new and replacement windows. Our range of hardwood and softwood windows are guaranteed to provide the style, functionality and high standards you require. They are both an investment and an intelligent choice when it comes to the best for your home and the Planet's future.
Standard or Bespoke Frames
We can provide windows from a stylish set range of Premier Frames to suit your property – or provide a fully bespoke design and fit service to create almost any size, shape or construction of window you or your architect can imagine. We like a challenge!
Your requirements may be for an individual window or a full set of windows – to either replace or match your old windows or to an enhanced design to add to
your home.
Complete Service
We can assist you right from the design stage and will visit you to carry out an initial survey and quote. We are craftsmen, not salesmen and we will not push you into anything you do not want or need. Once you have placed an order we carry out a full site survey, manufacture your windows and deliver to your home with our skilled and experienced fitters. If you wish to use your own fitting service we will just arrange delivery.
We can also liaise with your architect and local planning office directly. Compliance with the latest building regulations is assured as all our windows have high thermal efficiency and longevity as standard. If your property is in a Conservation Area or is a Listed Building we can also assist with the application to your local planning office.
Highest Quality
All windows are manufactured in our workshop in the UK. We manufacture in a range of timbers which include Oak, Sapele (Mahogany), Iroko , Douglas Fir and Redwood (Pine). The full hardwood windows option is also available in a range of materials to suit individual requirements. All our European timber is from managed forests. (Forestry Stewardship Council). Please see our Green Statement.
To provide a fully draught-free fit when shut all our frames have a rebated heavy duty rubber sealing strip with memory which maintains its shape and flexibility, this provides a long life simple solution to the elimination of drafts. All our timbers are 'immersion' pre-treated prior to painting or staining to prevent attack by beetle or worm and have exceptional longevity, assured with a heavy primer coat application of premium grade "Sikkens" microporous water based coatings. Frames can be supplied pre-finished where required and with the option of a two-tone finish.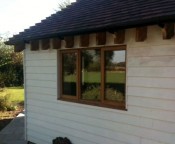 Where Egress (fire escape) for bedrooms is required we fit a stainless sliding friction hinge that allows the sash to open out to 90 degrees from the frame.
If you are undecided about whether to use hardwood or softwood for your home please see the specific pages that explain the benefits of both. Our FAQ and Resource pages also contain more general information about our company and the wider aspects of improving your home.
Customer Service and Guarantee
Our Mission Statement is 'To provide a hand-made top quality product at an affordable price' and to that end, we take great pride in making sure our customer care is second to none and will strive to ensure all customers are extremely happy with our whole service.
We have been financially and technically assessed by Stroma to ensure we meet current UK Building Regulations. All replacement window and door installations to the existing dwellings are covered by Stroma.
We also confidently back our timber products with a 10-year manufacturing guarantee, which in a highly unlikely event, covers our wooden frames and doors against potential timber defects.
If you would like to request a free visit and quote for wooden windows or would like any further information about our products please contact us using the short form below or call us on 0114 2883298