Sliding Sash Wooden Windows
Sliding Sash Windows have been with us for about 3 centuries! So, who are we to change the winning formula! Our Wooden Sash Windows are beautifully made for you at our workshops in Sheffield – to improve or enhance the look of any building in which they are placed. They will add an interest and depth to any opening and add a real design element. They work very well with period buildings where a PVC window would just not be appropriate. Also due to the simple opening system involved in the sliding sash window mechanism you know you are getting a beautifully made feature for your home, which is maintenance free as far as the opening system is concerned. Another key advantage with our sliding sash windows is the way in which they can be easily dismantled for renovation or repair – in fact some sliding box sash windows we built decades ago are still going strong! This is in contrast to PVC windows which only come with a limited guarantee.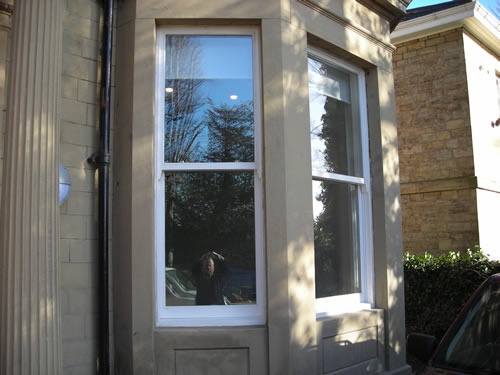 Wooden Box Sash Windows
Wooden Box Sash Windows are the traditional weighted mechanism that provides the elegance of sliding sash windows combined with an affordable price and add an element of depth and interest to the window. Manufactured from high quality hard and soft woods and come fully draught stripped. These windows are most often seen in listed properties.
Our Sliding Sash windows can have traditional weights and pulleys, or spiral balancers (see Modern Sliding Sash Windows). The traditional pulleys and weights are aimed specifically at the listed building market and where local regulations dictate that a traditional style be used. The extra frame thickness required usually means the sash is fitted in the reveal in the inner leaf of the dwelling with a wide architrave covering the sash boxes.
Even on historic and Listed Buildings we have developed a special range of 12mm 'slim' double glazing units for sliding sash windows which have been acceptable in many situations.
In some cases, such as wide and short frames, the weight of the double glazing cannot be balanced with the sash weights, so we need to resort to spring balancers. Taller frames, which tend to be the norm, are not so much of a problem.
Our version is a more secure than traditional sash windows but they still open very wide unless they are locked.
As with all of our windows here at Firth (UK) Ltd our box wooden sash windows are hand-made to your very own specifications and back this up with our guarantee. Our craftsmen produce the windows to meet all safety and energy regulations, so that they are practical and modern but also beautiful and will be a great addition to your home.
Modern Sliding Sash Windows
With modern sliding sash windows security and heat efficiency is not a problem either, our sash windows can be double glazed . Even on historic and Listed Buildings we have developed a special range of 12mm 'slim' double glazing units which have been acceptable in many situations.
Sliding sashes come fully draught stripped, the sashes run on spiral balancers which consist of a spiral threaded rod fastened to the main frame at each side of the sash, the sash has a trunnion (rotating nut) which runs up and down the spiral rod thus keeping the sash tacking true and straight. Locking is provided by rotary catches on the top of the sash and engages in a keep on the other sash.
Modern sliding sashes are very well secured with multi point internal locking systems. They are available in hardwood windows or the softwood version, so they are suitable no matter what type of wood or finish you are looking for.
Our wooden sliding sash windows are attractive, highly functional and efficient. However, if you feel that the traditional sliding action is not what you want – but you want to retain the look of a sash window then please see out Mock Sash windows. Or if the sash effect is not quite right for the look of your home then why not browse the other designs we have, such as our Storm Proof windows or our Flush Windows which are also described as Cottage Windows.