Show Conservatories For Hillarys Blinds
We were approached earlier this year to manufacture a show conservatory for Hillarys, the conservatory, window blinds and screens folk from Nottingham. They needed a show conservatory for the RHA Flower Show at Hampton Court, London, however, it had to be manufactured, delivered and erected in 4 weeks; a tall order, given an already bulging order book.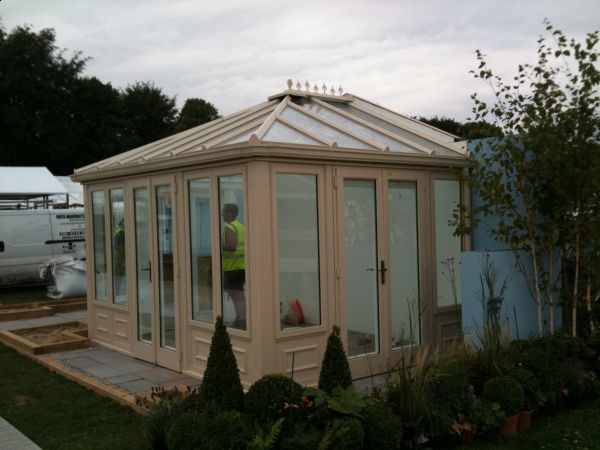 The brief was to provide a high-quality timber conservatory, fully double glazed, that would showcase their blinds but also have kerb appeal for anyone passing. A rear wall and flagged base were provided but the rest was down to us.
Conservatory design process
Firstly, we provided several designs for evaluation, and eventually, a 4 metre wide x 3 metre deep conservatory with a timber lower and glazed upper panel was chosen for the speed of build both in the works and on site. French Doors were included to 3 sides and then topped with a fully hipped glass roof.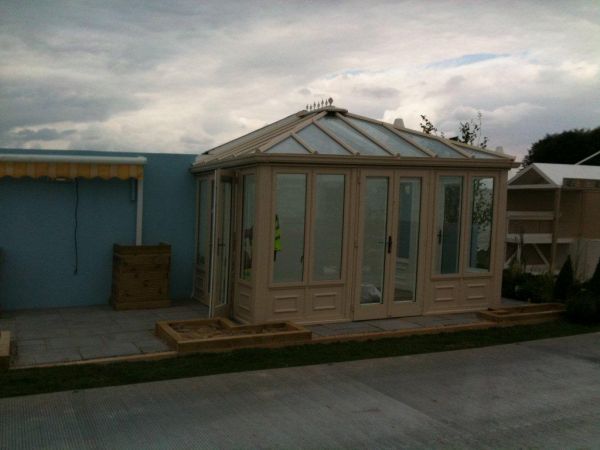 Meeting the deadlines
The time from approval to being completed and built at Hampton Court took only 3 weeks. We had to arrive at Hampton Court as soon as the base and rear wall was in place, complete the build and leave several days for the blinds and other display jobs to be finished prior to press day and the public opening.
It all went according to plan, and to the extent that Hillarys won an award for the stand; great news when considering it was both ours and their first year at an RHS event – then it was a mad scramble to carefully dismantle and load it onto our lorry, – then repeat it all again at Tatton Park 3 weeks later.
The conservatory was shipped back to our works, cleaned and re-painted and then loaded and delivered to Tatton Park where we went through the same procedure as before.
Then after another successful show, we dismantled it again before putting it into storage for the next year.