Casement Windows
For many reasons opening casement windows are one of the most popular types of wooden windows in the UK today. Opening casement windows are windows that have one of more hinges that attach them to the wooden window frame. This simple hinge design gives them very little reason to damage or break.
We can craft casement windows to fit design or size that you wish and that includes horizontal or vertical opening as well as single panels or double panels that open inwardly together.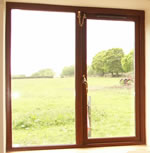 Wood Types for Casement Windows
As with all of our wooden windows you can have them made in any type of wood that you choose, hardwood casement windows are our most popular due to the superior life of hardwood and the attractive grain. Casement windows can also come in any finish of your choice to match your home.