Oak Framed Windows
Oak has great strength and hardness making it ideal for making things out of which is why most timber framed buildings structures are made from oak. Oak's attractive grain markings also make visible features of houses like oak window frames very popular in both traditional and modern homes.
We can either supply custom made oak window frames for you to fit yourself our we can offer a full service. This oak window service starts with measuring your windows, followed by making the oak window frames, then to the installation of them and last but by no means least topped off with our after sales service.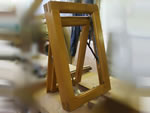 Styles of Oak Framed Windows
As with all of our wooden windows the choice of style is all yours and we can offer a full bespoke oak window frame service. Some of the popular styles include casement windows, sliding sash windows and mock sash windows.