Hardwood Windows
Buying hardwood windows from Firth (UK) Ltd goes far beyond just the superior windows that are made from hardwood. Hardwood has a beautiful grain and exceptional durability but it is the service we offer from start to finish is what really leaves our customers proud and satisfied with their purchase.
Why Choose Hardwood Windows?
When choosing the right windows for your home there are several things to consider – the overall aesthetics, the planning regulations, the finish, the functionality, the durability, the overall ecological impact and lastly but not least, the cost – short and long-term.
Wooden windows have seen a resurgence in popularity in recent years which is in part down to the developments in high performance wood finishes and protective coatings. These coatings provide the wood with maximum life span and also enhance the appearance too.
The grain of hardwood trees is usually denser, straighter and more subtle than softwood, which is the main reason they are more expensive than the softwood windows. The West African hardwoods such as Sapele and Idigbo are knot free and have a smoother tighter grain and are also much more durable than softwood. European Oak does have figuring and knots to an extent which many consider adds to its appeal. Iroko is a relative of Teak and best finished with an oil, if left untreated it mellows to a pale silver.
If you would like to learn more about the types of high quality hardwood we use for our windows, visit our hardwood types page.
We feel that our hardwood windows will meet and surpass all your requirements. The details on this page and our FAQ page will hopefully answer all your questions. In addition, when we visit you to take some initial measurements we will be able to show you samples of the various woods, grain and superior finishes for our hardwood windows.
You can choose from our Premier Frames range or a fully bespoke unique product designed for your home.
Our Premier Frames Range
Over the years we have developed a range of our most popular frames, these are all available to the public and we are happy to come and discuss your needs and carry out a full survey anywhere in the UK.
The Premier range is available in casement styles of both Storm proof, Flush (cottage style) and Mock Sash windows. Depending on the style chosen the frames have sliding stainless friction hinges as shown in the adjacent images and can be provided with an Egress (fire escape) hinge which gives a 90 degree opening for bedrooms, this is to comply with the latest building regulations. This can be accomplished on the mock sash by providing a lower opening lower sash. Security is provided by multi point Espagnolette locking mechanism and has a lockable vent facility. The frames are fully draft striped with a memory seal and together with the hardware provides a fully weather tight finish.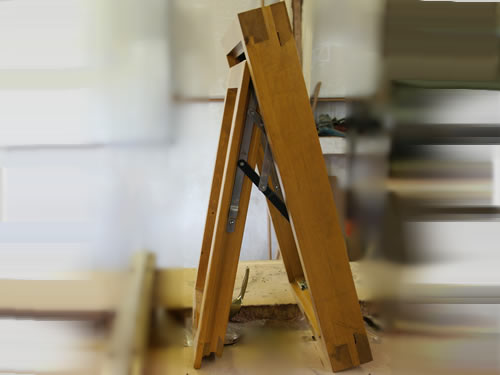 We also provide a traditional sliding sash range, available with either pulleys and weights or spiral balances. The pulleys tend to be used for listed and protected buildings where the frame lives inside the outer leaf in order to hide the sash boxes, which are covered by a deep timber architrave. The spiral balance, being much thinner, will sit in the outer leaf.
The spiral balance has a threaded rod at each side of the frame and on the sash has a trunnion (rotating nut) which runs up and down the threaded rod thus keeping the sash parallel. Tension is adjustable at each side to aid tracking and this is the modern preferable choice for a sliding sash. The frames for both styles are fully draft stripped and have rotating catches on the sashes for security, further locking can be provided with optional shoot bolts.
Longevity & Durability
Longevity is provided by using a range of high performance micro porous finishes from Sikkens water based coatings. Unlike traditional oil based paints the micro porous finishes are absorbed by the timber and also allow it to breathe but remain water repellent, giving a very durable long life coating.
The finishes available in our Premier Range vary from a light oak or ash to very dark walnut or Jacobean oak. Please see the examples here. Solid colours are provided in a huge range, in fact anything with a BS or Ral number can be provided.
Bespoke Hardwood Windows
If you have a specific design or look to achieve, an unusual opening or want to match or replicate existing windows then our fully bespoke service is ideal for you.
We provide a full site survey facility with samples available for viewing, once ordered our Installation Manager will visit you to conduct a full measure and finalise the style and colour, working with you, your architect or local planning office to ensure you achieve the perfect design and finish for your property.
We can base the design on the more traditional styles of frames, with additional design elements or special finishes. We also specialise in unusual or 'difficult' commissions where curved glass or arched frames are required. We have successfully undertaken planning applications for clients with historic or listed buildings or buildings in a conservation area. Our range of special slim double glazing was developed specifically to meet the exacting requirements of planning officers in specific building situations.
All windows are manufactured in our workshop in the UK and delivered straight to your home with our fitters if you wish to have our fitting service too. Alternatively we can simply deliver your windows and you can organise your own fitters. However, for the more intricate and bespoke frames we would recommend you use our own highly trained and experienced fitters, who have also been trained as joiners, builders and plasterers.
Glazing Options
We have a range of different glazing available for every situation or style requirement, including our extra thin double glazing used to meet specifications required for listed buildings. Please see our Glazing Options page
Guaranteed Quality
Our Mission Statement is 'To provide a hand-made top quality product at an affordable price' and to that end we take great pride in making sure our customer care is second to none and will strive to ensure all customers are extremely happy with our whole service.
We have been financially and technically assessed by Certass to ensure we meet current UK Building Regulations. All replacement window and door installations to the existing dwellings are covered by Certass. We also confidently back our products with a 10 year manufacturing guarantee on our timber products.